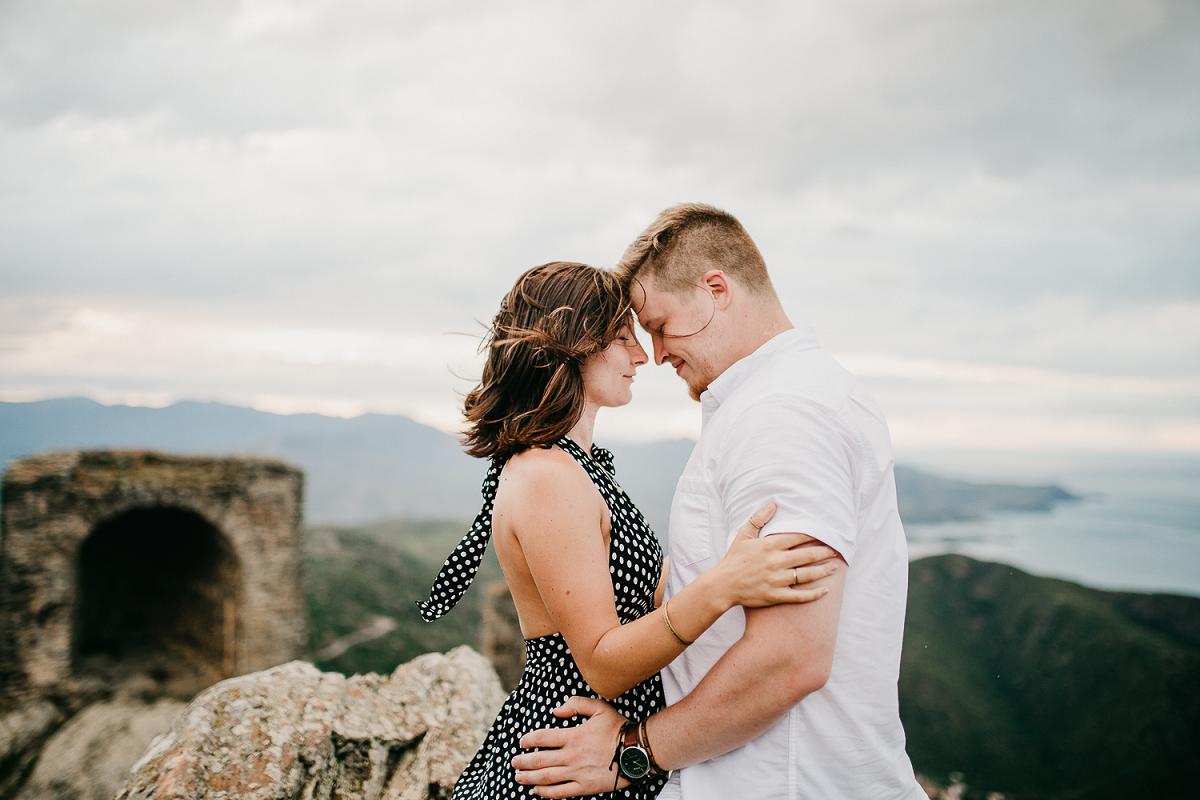 momentos únicos que pasan rápido
pero duran para siempre
No pude contener la alegría e ilusión cuando Brent, tras contactarme, compartió conmigo su plan para pedirle matrimonio a su novia Britany. En una pequeña parada por la Costa Brava durante su viaje por Europa, escogió un lugar privilegiado por sus vistas.
A pesar del lluvioso día, seguí el camino hasta la cima, donde unos minutos después me encontraría con ellos por "casualidad". Entre barro y charcos por senderos estrechos llegué hasta el castillo. No esperaba que fuese así pero estaba seguro que valdría la pena.
De un momento a otro, aparecieron entre las ruinas; aventureros y cariñosos, sin dejar de sonreír. Tras su señal, salí de mi escondrijo; presente como único testigo en un instante con tanta magia.
A veces nos preocupamos demasiado por situaciones las cuales ocurren sin más, siendo más que perfectas   
unique moments that happen fast
but they last forever
I was feeling extremely happy and excited when Brent, after getting in touch, shared his beautiful and romantic plan to ask his girlfriend Britany to be his forever. It was a short stop in Costa Brava during their trip through Europe, he chose that magnificent place for its views.
Even thought it was raining, I continued my way to the top of the mountain, where I'll be joining them"by accident". Between puddles and mud, through really wet narrow trails I arrived at the castle. I didn't expect to be like that but for sure it would be well worth.
All of a sudden they appeared between the ruins, adventurous and affectionate, with a gorgeous smile on their faces. After making his signal, I left my hiding place, knowing that my camera and I were the only testimonies of that magical moment.
Sometimes we worry too much about situations which happen by itself, being more than perfect